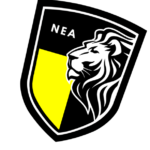 TRAINING TO HELP YOU UPGRADE
YOUR CURRENT IT POSITION TO A SIX-FIGURE JOB
IN THE NEXT 4 MONTHS
TIME TO GET YOUR SIX-FIGURE DREAM JOB!

Let me HELP YOU to totally UPGRADE your current Help Desk, Desktop, or Administrator Position to a HIGHER paying IT Engineer position in the next 4 to 6 months by...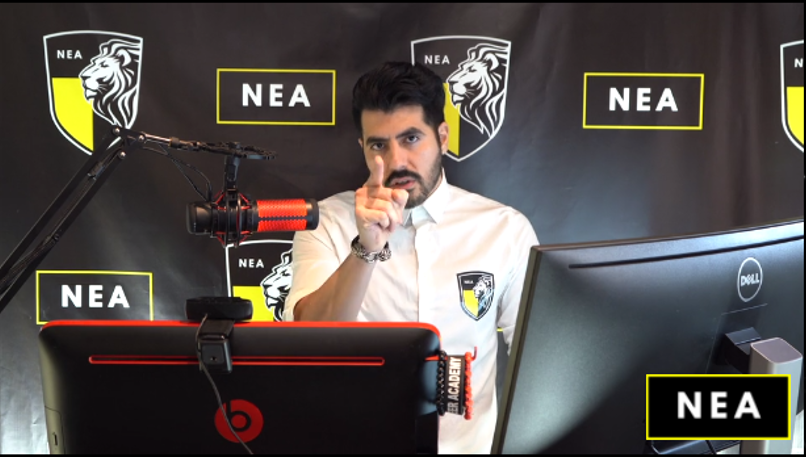 ...giving you FREE ACCESS to a series of 4 videos where I'll show you a proven method that works, how to do it, and go from where you are to finally a six-figure position, regardless of your experience and education.
Network, Cloud, DevOps, or Cyber Security Engineer in 2022?
Discover the "NEW MODERN WAY" to start your IT Career in 2022 - FAST!
Learn my step-by-step process that helped many students land a $60,000 - $75,000 first job in their IT Career in just 4 months. I'll also show you the path to getting a $130,000 income with an Engineer Level Position in less than 2 years even without a College Degree.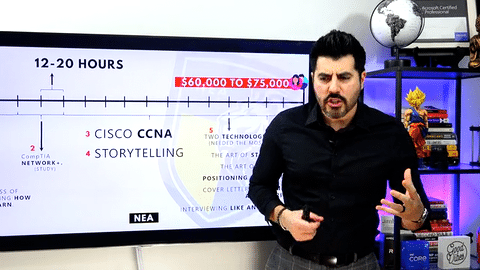 Let me put it very simply...
Earning a $130,000 INCOME in IT in today's changing world, shouldn't be hard for you or anyone else to accomplish in the next 2 years.
Even though... it is for most people.
And do you even know why?
Because the majority NEVER QUESTION what's been taught out there. Neither the advice and guidance they've been given from society nor the IT Community on HOW TO START their IT Career.
Very few take the time to stop, step back, observe, and realize that the game has changed, many of the "HOW TO" ways and rules are broken, and the old ways to be successful in IT are not functional in the fast-moving and competitive world that we live in today.
Then, how can you explain why there are currently hundreds of new people unable to get their first great paying job in IT, even though many have a Degree or a couple of IT Certifications?
And, let's NOT FORGET about the hundreds of individuals that end up with just an entry-level, low-paying job in IT. And this is NO LIE, take time to really look at the IT Community and what truly is happening to many.
Do you see my point now?
It's time to challenge and question what you have been told, the advice you got, and the beliefs you've probably adapted from society and the IT Community about starting a successful career in IT.
AND HAVE YOU NOTICED...
There are currently thousands of people doing exactly what you are, or are about to do if you end up listening to what most people have to say about how to start and approach your IT Career, by doing the same things that everyone is currently doing?
So, the obvious question here...
...how are you going to stand out and completely differentiate yourself from everyone else once you go through the job interview process to get the IT job you want... if you end up doing exactly what everyone else is doing?
How?
UNCERTAIN TIMES
(the reason why it's a must for you to differentiate)
As you know, we are living in unprecedented times right now.
There are millions of people that have lost their jobs in the last 2 years, many others are afraid of what the future holds for them because of the pandemic we are all going through, and as if that's not enough, there's a good chance a global recession will follow in 2022 - 2023.
What does all this mean...
It will be a lot harder for individuals to get their first high-paying job in IT, or for many currently working in IT, to upgrade their current position to a higher paying one, as many businesses will be tightening their spending budget which means fewer job openings.
Let's NOT FORGET what I just said about how competitive it's getting in the IT market as a lot more people are getting started, the number of individuals wanting to start their IT Career tripled in the last 2 years.
So, the question once again...
WHAT ARE YOU GOING TO DO TO START YOUR IT CAREER BY...
Completely differentiate yourself from everyone else and prepare yourself in order to land your first position in IT in the next 4 months, and on top of that, make sure the job is NOT just an entry-level position?
I'm telling you, there is a "NEW MODERN WAY" to start and "FUTURE-PROOF" your IT Career, and has nothing to do with having a Degree, a ton of IT Certifications, a Technical Diploma, and having years of experience.
I did it, many students have done it, and so can you. IT'S YOUR TURN!
Network Engineer Academy offers two different programs
that are designed to step up progress, accelerate results, and create unbelievable growth
in both your IT Career and personal life.
Lessons That Are Worth Your Investment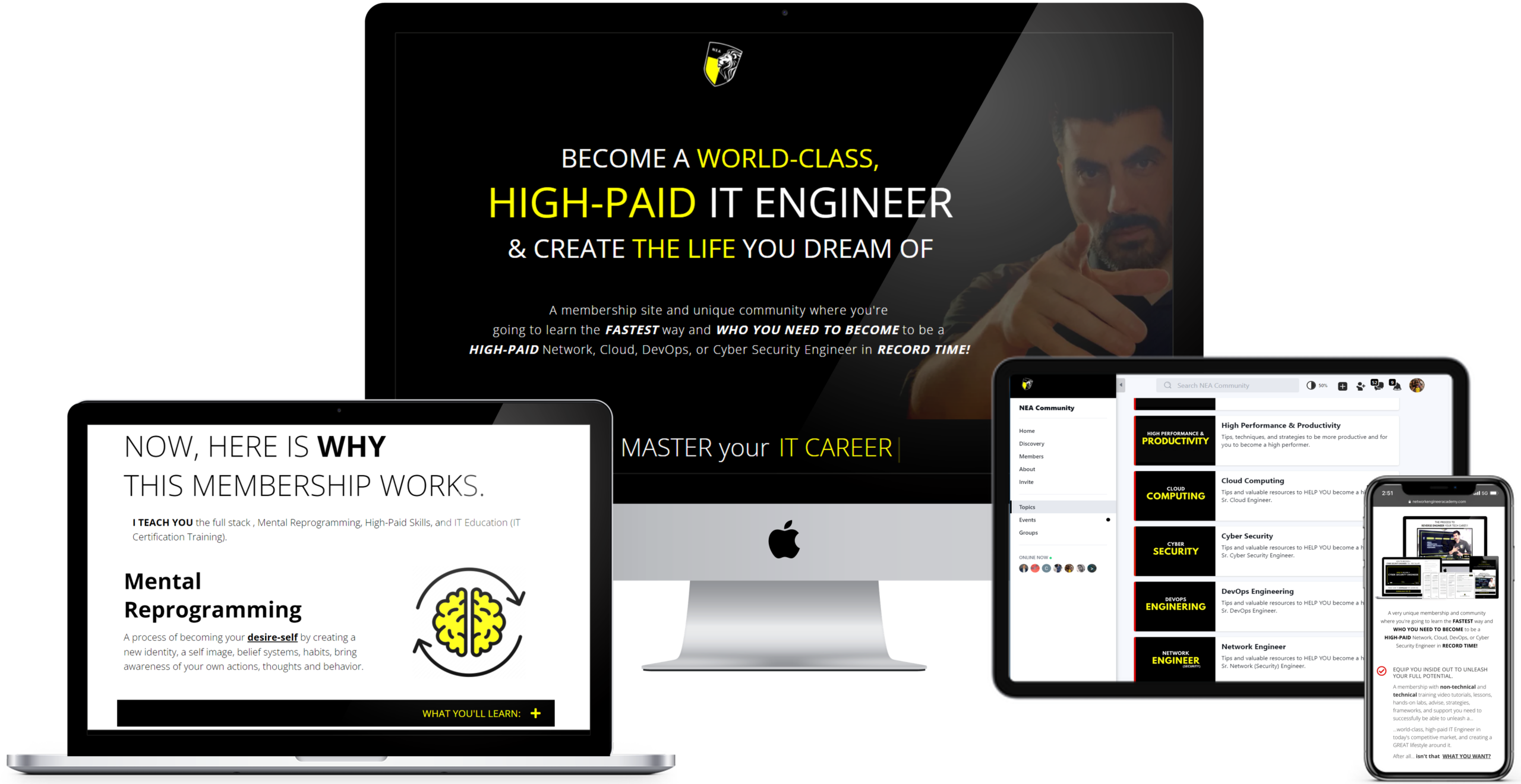 A membership (community) for individuals that are looking  NOT ONLY for training to get IT Certified, but learn high paid skills, and get their DREAM high paying job in IT, but can go through massive personal growth and transformation.

The FASTEST way to a $130,000+ income requires you to have a
COACH.
This is an ONLINE | YOU-AND-ME interaction like nothing you have ever experienced, that will get you direct and exclusive personal access with Jorge to have multiple 1-on-1 sessions to help you to one goal only... get you a six-figure income in the next few months.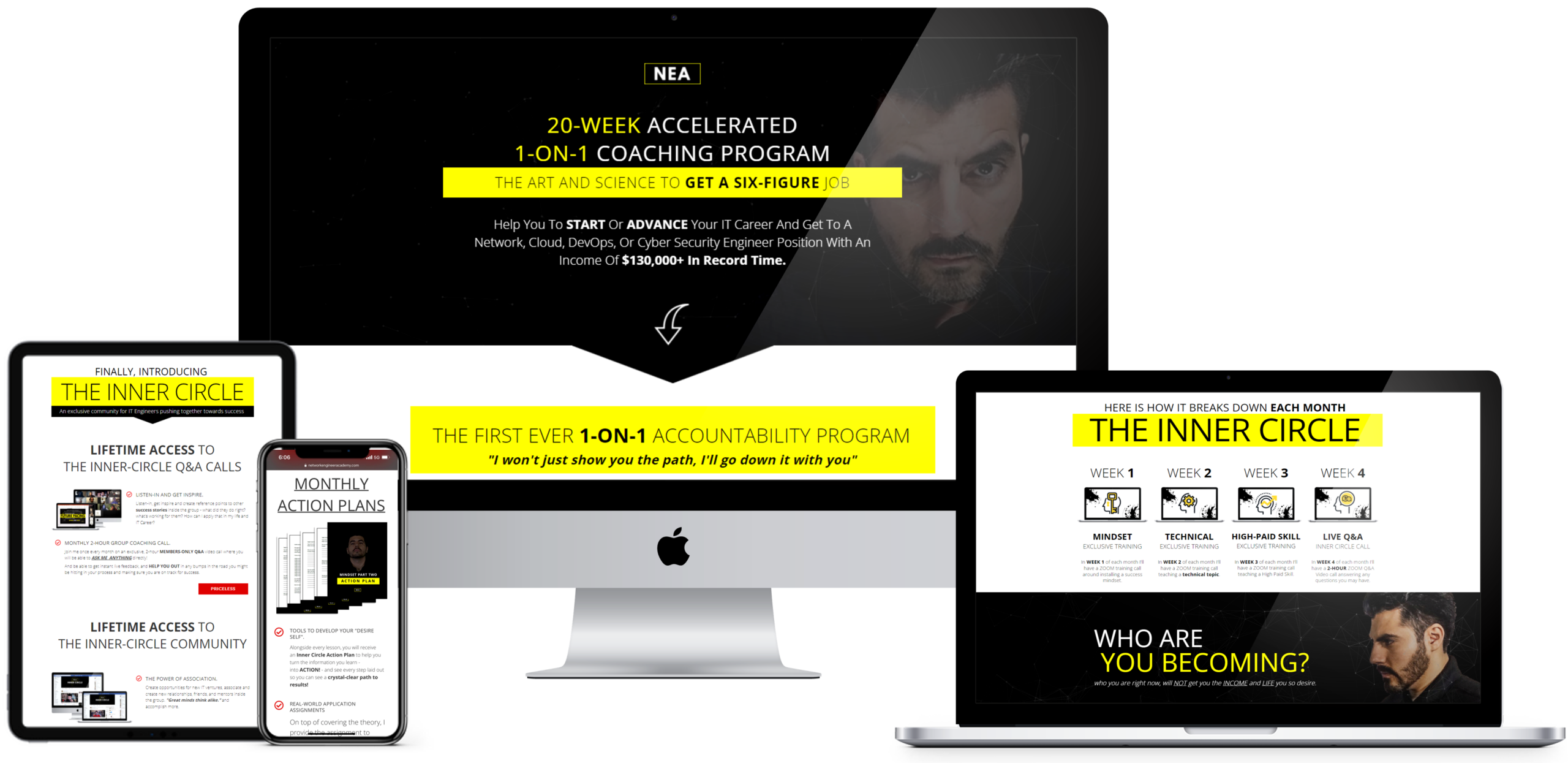 And hands down, this is the most advanced Accelerated Coaching Program GUARANTEED to adapt an unstoppable mindset, and arm you with the skills, knowledge, strategies and give you the accountability you need to get the results you want. - I GUARANTEE IT!!
What students have to say about their experience with NEA,
and every story would be different — but with a common outcome: Results. Unexpected results.
More-than-expected results. Off-shoot results. Very often, life-changing results.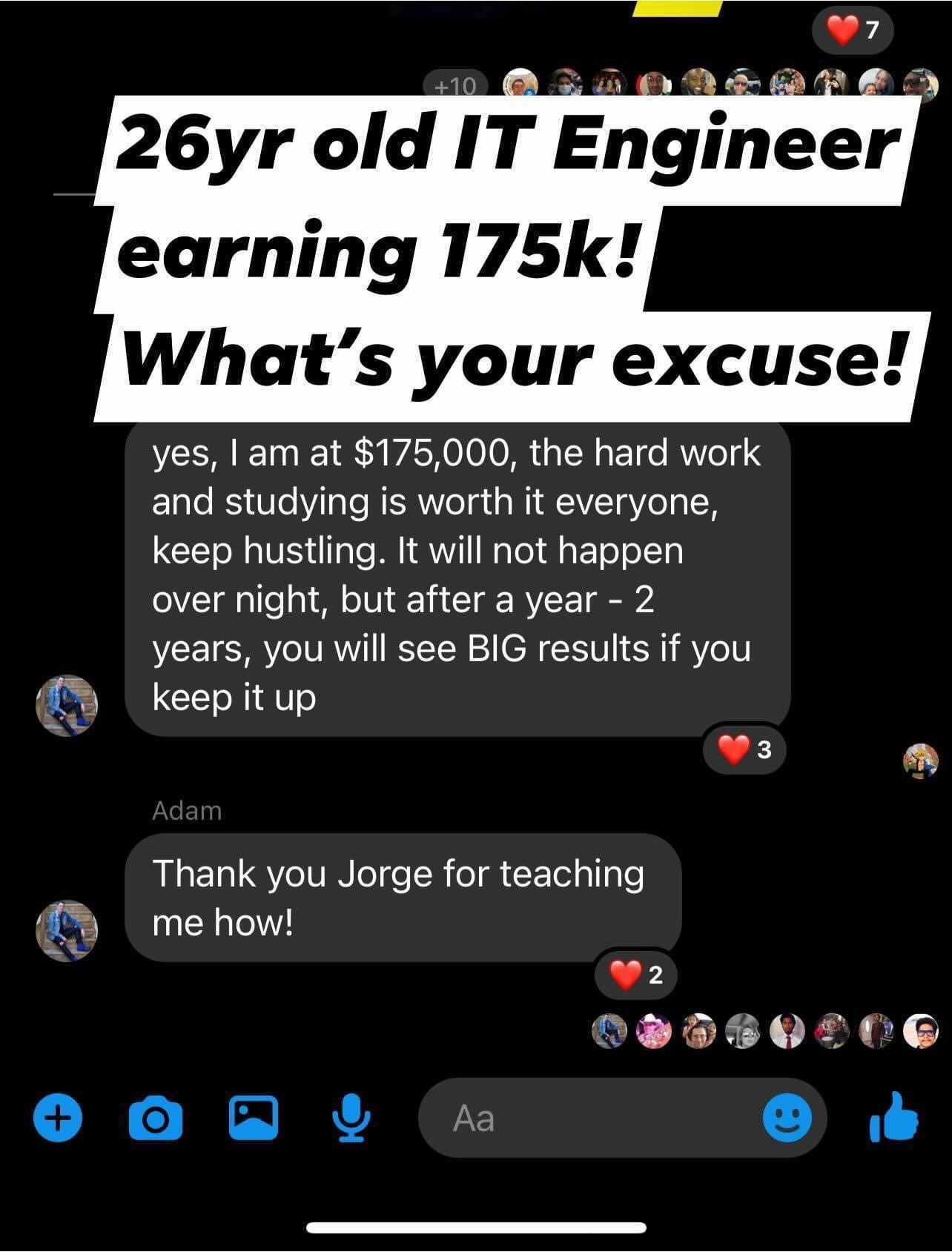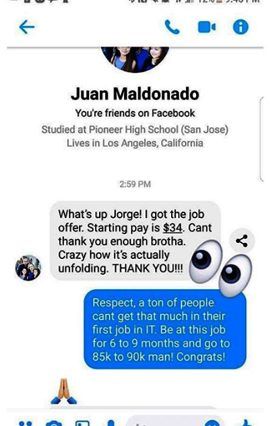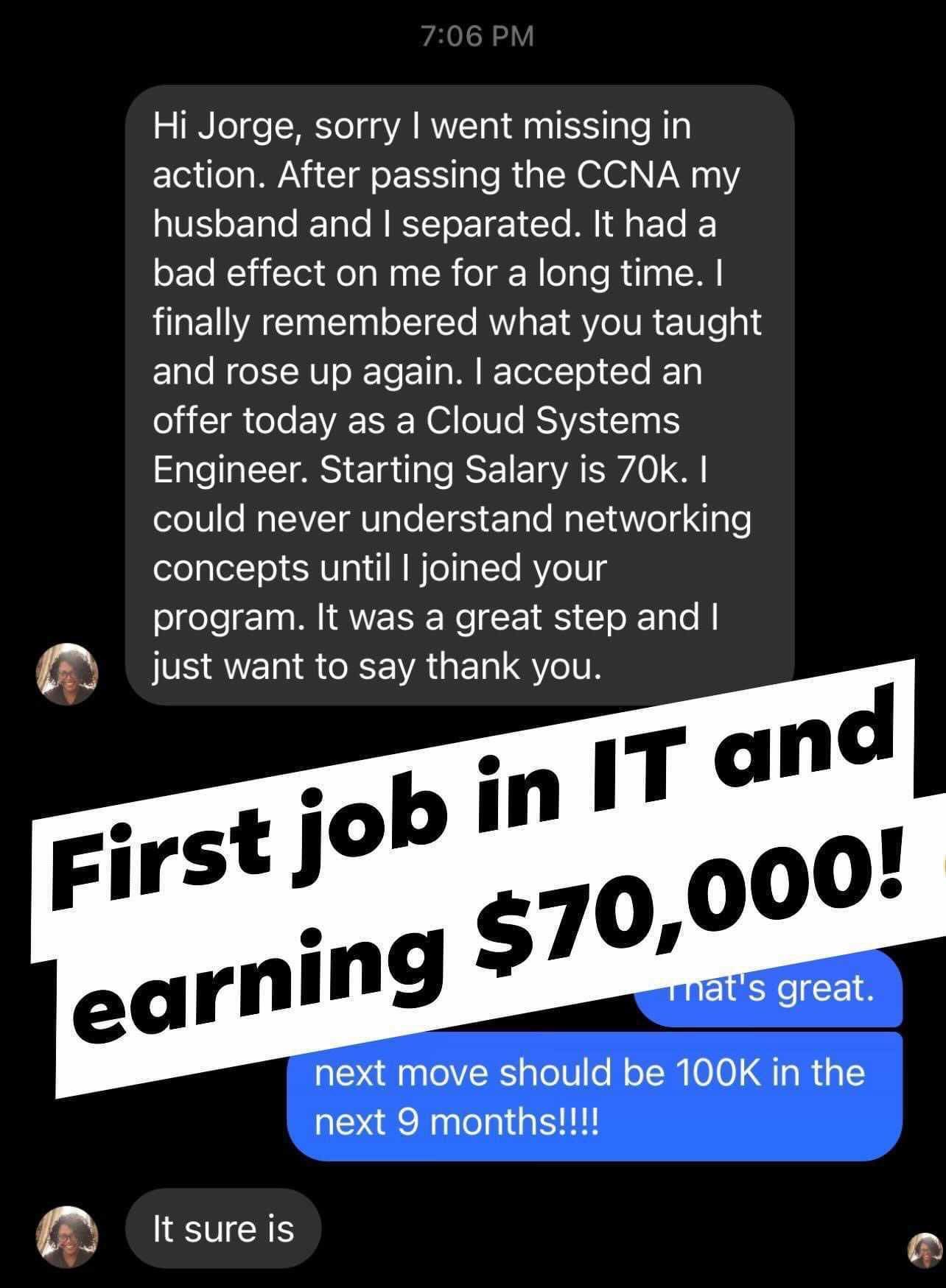 Copyright 2022 - Network Engineer Academy - All Rights Reserved