THE FIRST EVER 1-ON-1 ACCOUNTABILITY PROGRAM
"I won't just show you the path, I'll go down it with you"
GETTING A $130,000+ JOB
AND THE LIFE YOU WANT ISN'T MAGIC,
IT'S CAUSE AND EFFECT
Success isn't born, it's made. To me, success and having it all in life is a science. I don't believe in luck, fate, or magic — only cause & effect by being laser-focused on specific actions that create big reactions.
My method focuses on breaking down basic building blocks (like Lego) and tells you how to assemble them for success and helps you reprogram your brain for superhuman ability.
I follow results and data, not the crowd.

Let me start by asking you a hard question.
Are you truly happy and fulfilled with the current job, the income that you have now?
Because the truth is... MOST PEOPLE AREN'T.
And the harsh reality is that your results are YOUR FAULT!
Anyone who attempts to tell you otherwise, incluting yourself... LIE!
You see, your results - NO MATTER WHAT THEY ARE - were created by none other than YOU, and it's time to own it.
But the good news is, regardless of the results you have now, or where you are, you can definitely break free and FINALLY START – GROW– and become a NEW VERSION of yourself, the one who you are destine to be. The one that will allow you to get the results you want — the LIFE, INCOME, CAREER you want.
And that's what this 1-ON-1 Coaching Program is all about - the science of having it all, creating the life and having the career you want - a high-paying dream job, and have the opportunies that most people dream of - IMAGINE THAT!
And I get it, I know this is a HUGE and BOLD statement.
And you are probably thinking…
"This can't be, this is too good to be true (and it is), "this is nonsense", this is NOT what I've been told, and this guy is full of S**T".
Well, let's find out, shall we?
Just be open to the possibility that you're being mislead to believe things that aren't the way they make them seen, so far from the truth, from reality, and that's exactly what got you where you are right now.

I'm NOT going to bullshit you or sugar-coat the truth as others have...
But having a Degree, a couple of IT Certifications, watching YouTube videos, even a few years of experience working in IT, WILL NOT give you the dream job (income), fix your personal problems, and give you the life that you want for yourself and your family.
Don't believe me?
Then, why are there currently thousands of individuals financially unstable, living paycheck to paycheck, unhappy, stuck, and very frustrated in their IT Career and Personal Life, even when...
...most of them end up doing exactly what society and the IT Community advise them to do, the "right things".
Let's face it.
They keep LYING to you about "how to" and "what's working" to succeed in today's competitive world.
I mean, when was the last time some of those so-called "gurus" in the IT Community spoke or even mentioned anything about strategy, marketing, positioning, money, lifestyle, personal growth, or a conversation on how to have it all in life?
Exactly!
And WHY would they?
To be honest, most of them don't have it, don't know it, or are afraid to be authentic and go against what's normal… they live in one dimension. But thankfully, my friend, it doesn't have to be that way for you.
Finally, let me say this...
If I had the chance to sit down in your living room, here is what I would say to you...
STOP playing the same game that everyone plays. Instead, I invite you to play a bigger game, the one that will lead you to GREATNESS.
I DID IT, so can YOU.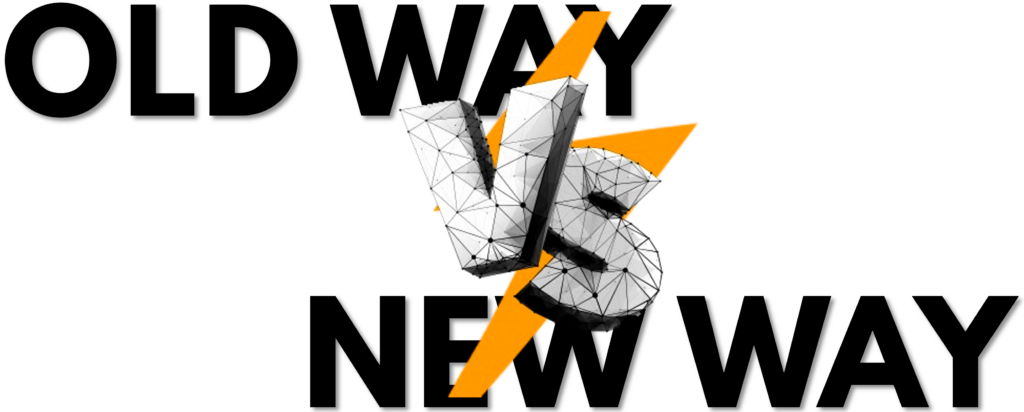 We all know it right?
Focus on a Degree, have a collection of IT Certifications, wait years to gain experience, and so much more conventional and outdated advice that it's not applicable in today's competitive and changing world.
It's time to STOP  listening to noisy society bullshit.
And to tell you the truth...
That's exactly what I used to believe and did for so many years until I realize that winning the game of LIFE and my IT Career had too little to do with it.
It's no secret, I know you can see this happening in the IT Community, many well-educated, smart, experienced people with great potential and with passion, are unable to get a HIGH-PAYING job in their IT Career, and the few that do...
Went through so many struggles and years of figuring out to eventually get there, BUT completely forgot about what matters the most... designing a LIFE that truly enjoys living.
FEELING STUCK,
FRUSTRATED, BOREDOM, AND
FINANCIALLY BROKE.
That's exactly the way it looked for me for so many years, that's the picture society painted for me in order for me to be successful, but this SHOULD NOT BE THE REALITY FOR YOU.
I mean, do you really think that getting IT Certifications is the answer to help you to differentiate yourself from everyone else and help you to get a high paying job ($160,000+), and having the LIFE you always dreamed of?
Don't think so right?!
This is why I'M HONESTLY FED UP with it and...
THAT'S THE REASON WHY I CREATED THE 1-ON-1 ASCENSION COACHING PROGRAM.
To inform you and teach you what REALLY MATTERS for you TO LEARN, FOCUS ON, and DO in today's competitive world that we live today!
YOU SEE WHY YOU
NEED TO PAY ATTENTION?
You can keep working harder and harder on IT Certifications, Degree, doing it the OLD way and get the same results you always have, or...
...adjust and adapt the NEW way and approach — and be extremely intentional in what you learn, who you become, and how you differenciate yourself to ensure you stand out from other candidates.

Let me introduce you to the NEW MODERN WAY, which I designed and carefully structured for us, IT Engineers, that desire a GREAT LIFE, a $160,000 INCOME, and that want to escape overwhelm and enter growth.
The NEW way is a structured process that focuses on 3 domains that make the whole of a successful and world-class IT Engineer, starting with mental reprogramming, then learning the "full stack of high paid skills" — six interconnected layers of consciousness built on top of each other. And finally learn, study the topics of top IT Certifications the RIGHT WAY.
That's exactly what completely transformed my life.
The building is only as tall as the foundation is strong enough to build on. I teach you everything you need to succeed in your IT Career today, tomorrow, in the future, and against any storm.
Learn 5 principles to live by (Inner-World Strategies) of what I call a "Behavior Patterns of High Performers" mindset, of what really takes to master yourself, and how TO HAVE IT ALL IN LIFE.
Everything starts from inside out.
Through our 1-ON-1 Coaching Sessions, I will coach you and walk you through a process of becoming your desire-self by creating a new identity, a self-image, belief systems, habits, bringing awareness of your own actions, thoughts, and behavior.
Finally, a way to conquer anything to set your mind to and become who you are meant to be... YOUR OWN HERO.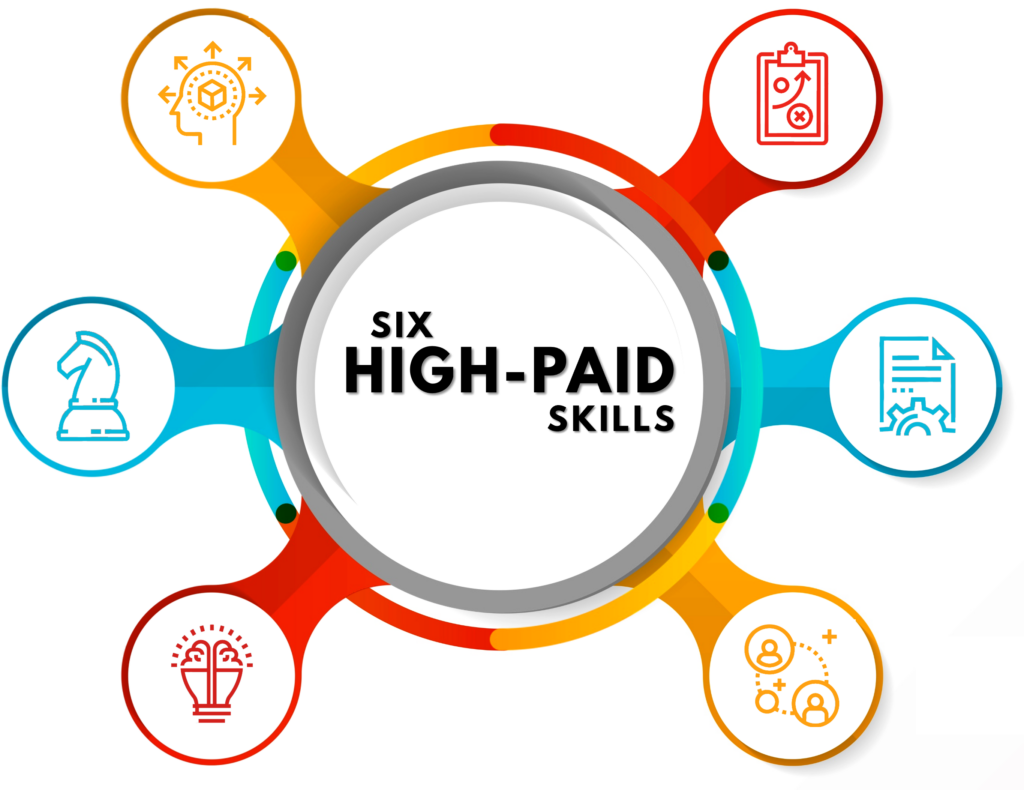 "I'll TEACH YOU the the full stack of High Paid Skills to play a BIGGER GAME and create unreasonable GROWTH".

The Process Of Learning
How to Learn.
Time to finally LEARN HOW TO LEARN the technical topics, the right way.
YES! It makes a HUGE difference in the way you learn technical topics.
Through the 1-YEAR membership access and our 1-ON-1 Personal Coaching Sessions...
You'll LEARN HOW YOU CAN DOUBLE the speed, and way you are currently learning and going through information.
You'll learn how to comprehend the information better, retain it more, and recall it when you really needed it through ACCELERATED LEARNING TECHNIQUES.
You'll learn as well how to expand and tap in your memory potential and maximize it to your benefit.
OUTCOME: You'll approach the way you go through and learn new information NOT ONLY by recalling it but in a way that you can...
...COMMUNICATE, PRESENT, EVEN TEACH IT and become a STORYTELLER.
And MUCH MORE.

The Art Of Being An
IT Marketing Genius.
I will teach you exactly the fundamentals of marketing for IT Engineers, for you to go from ZERO to becoming an IT Marketing Genius.
Through the 1-YEAR membership access and our 1-ON-1 Personal Coaching Sessions...
You'll learn step-by-step exactly how to market yourself in the IT Market and IT Community based on what you know, your experience (if any), what you have learned, what you are currently learning, and the value you have to offer.
You'll learn 17 Marking mindsets for you to think like a marketer and not just an IT Engineer.
You'll learn how to package yourself in the IT Market, a way for you to PACKAGE what you know, the experience, and knowledge that you have... only then, you'll be able to put yourself in the IT Hiring Manager's mind.
You'll learn how to create yourself as "an irresistible offer" that can be placed in front of the right opportunity and job that you want.
You'll learn exactly what the IT Market wants, needs, and desires to use it to your advantage to give them that through YOU, again, it's all about becoming the IT Marketing Genius.
And MUCH MORE.

The Art Of Positioning & High-Status.
Through the 1-YEAR membership access and our 1-ON-1 Personal Coaching Sessions...
You'll learn the process of how to start gathering intelligence, insights, and information from the IT Market to find out and know exactly what the market, companies, and IT Departments are looking for in today's demanding world, and used it to your advantage to position yourself as the expert.
You'll learn a lot about HOW TO use Social Media to your advantage to

be able to connect and associate yourself like a pro

with other successful individuals and influencers.
You'll also learn how to establish yourself in the IT Market as a thought leader, giving you a lot more opportunities than you can handle.
You'll learn how to think and eventually become the GO-TO person and matter expert.
You'll learn how to BECOME THE HUNTED by IT Hiring Managers, Recruiters, and IT Executives, rather than the hunter. 
OUTCOME: Never worry to have a high-paying job regardless of the market and economy. 
And MUCH MORE.

The Art Of Being A Storyteller.
Storytelling is an art, as well as a learnable skill, that allows the listener to connect with you on a more personal level.
Through the 1-YEAR membership access and our 1-ON-1 Personal Coaching Sessions...
You'll learn how to use the power of storytelling to grow your IT Career, and either get UNLIMITED OPPORTUNITIES or get your IT dream job.
You'll be able to take a conversation, an answer, and shape it into something that is relatable on a personal level to make your point across and persuade the conversation to go your way.
You'll learn how to turn your working experiences and knowledge into compelling stories with meaning.
You'll learn in detail how to effectively create your own TECHNICAL and PERSONAL stories, so memorable and compelling to be able to pitch them in the job interview process, and used them to connect to high-end executives and IT Engineers and win any job interview.
You'll learn the perfect structure of a story and 7 ways to start telling a technical or personal story, to demonstrate what you are capable of doing and the value you have to offer.
And MUCH MORE.

Creating a "HIRE ME" Cover Letter and Resume by Thinking like a Copywritter.
Through the 1-YEAR membership access and our 1-ON-1 Personal Coaching Sessions...
You'll earn the specific and very strategic process on how to build a creative Cover Letter and Resume that will take your current resume from ordinary to remarkable and more important...
...THAT WINS! and get you HIRED!
You'll learn the exact process taking place before you create a CV and Resume.
You'll learn the most powerful technique used to create a Cover Letter - Storytelling (three reasons why)
You'll learn the six proven techniques to turn your resume into an interview magnet.
You'll learn how to read the IT Hiring Manager's mind and understand what candidates are they looking for.
You'll learn copyrighting techniques to structure and persuade your WORDS carefully that deeply connect with your future employer.
How to place many years of experience and qualifications into a Killer "One Page" Resume.
OUTCOME: Your resume/cover letter will almost "automatically" rise to the top and when you walk into the interview, they'll already feel like they know you.
MUCH MORE.

The Art And Sience Of Interviewing like an Influencer.
Through the 1-YEAR membership access and our 1-ON-1 Personal Coaching Sessions...
You'll learn the proven tactics that allow you to become a persuader and natural influencer so that you can control the entire interview process from the moment you pick up the phone, all the way to the face-to-face interview through many techniques and using the "compound effect" and persuasive processes.
You'll learn how to move Recruiters, IT Hiring Managers, IT Engineers, from "maybe" to "I want you" because you've demonstrated you understand their problem, their needs, and have a solution they care about and want.
You'll learn "Unconscious Communication" the power of unconscious communication-also known as "the secret weapon of influence - Body Language".
You will learn the importance of the first "four seconds rule" of the conversation, what needs to be established during those first four seconds, and why these things are so important. 
OUTCOME: Completely differentiate yourself from all other candidates by going through the entire interview process in a very precise way to make them want you and strategic way for them to offer you the job.
MUCH MORE.

YES! I do believe in IT Certifications, they help a lot, but why not ONLY get the YOU to need to get to your next higher paying job?
but you better do learn the topics the right way and get the right ones FOR YOU.
My way of teaching will allow for you to NOT ONLY learn, and recall any technical subject from an IT Certification...
...but for you to be able to process the information, and knowledge in a way that you can communicate, present, educate, market, sell, story-tell, and persuade other people to like you and think of you that you can get the job done regardless of your of any experience.
This is why you don't need a College Degree, collect many IT Certifications like many people do, or wait for years of gaining experience in order to...
GET A $160,000 INCOME,
IT DREAM JOB, AND LIFE THAT
YOU WANT.
This is the reason why it will be a BIG MISTAKE on your part if you don't reprogram your mind first, then take the time to learn and eventually master the full stack of high-paid skills, well...
...that's if you are serious about your IT Career and Personal Life.
And by the way...
YOUR FUTURE DEPENDS ON IT.
(FINANCIALLY IT DOES!)
Here is what makes the 1-ON-1 Coaching completely UNIQUE
IT'S ALL ABOUT ACCOUNTABILITY

My style is to mix a blend of
encouragement, tough love, strict discipline,
hyper accountability, and a strong
sense of urgency to keep you fully engaged and
performing at the very top of your abilities.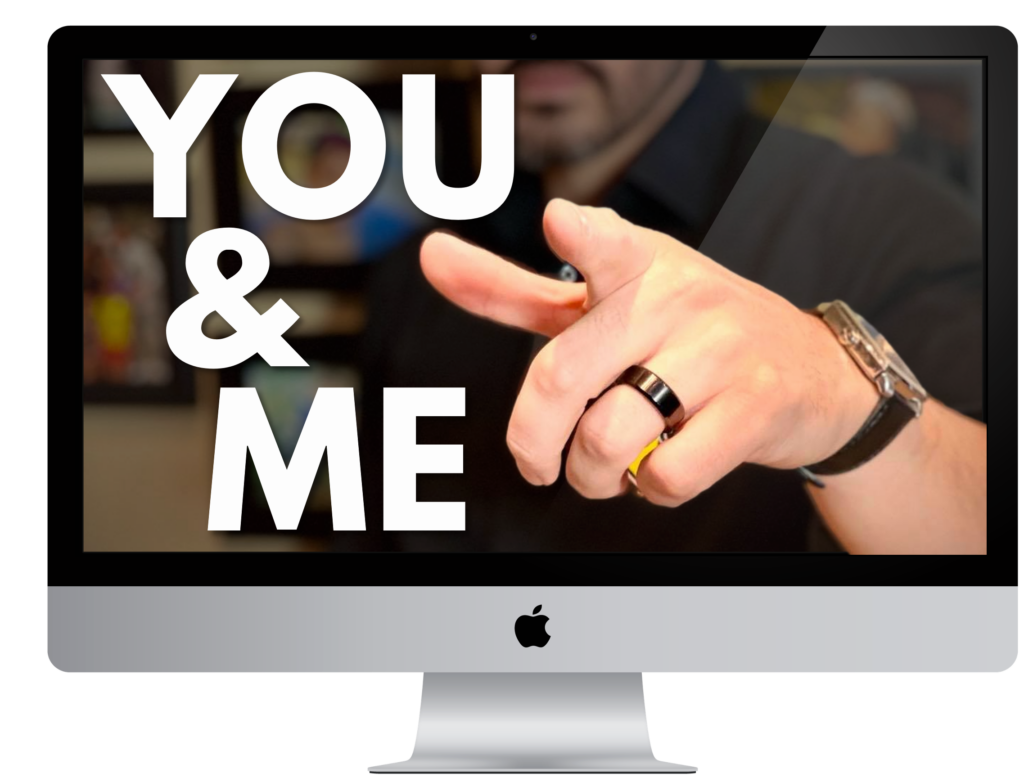 INTENSE YOU AND ME COACHING CALLS.

You'll get direct and exclusive personal access to work side-by-side with me to HELP YOU to one goal only... CHANGE YOUR LIFE.

First, by "Revere Engineer the Process" to the destination you want to get to, and the person who YOU need to become in order to get there.

Second, to get you a high-paying job in IT sooner than later.
REAL AND SUSTAINABLE RESULTS.

Moving you into action and full speed based on "what's working now" strategies, real-life experiences, and completely SPECIFIC CUSTOMIZED BLUEPRINT (the plan of actions) to YOUR current situation... NOT practical theory.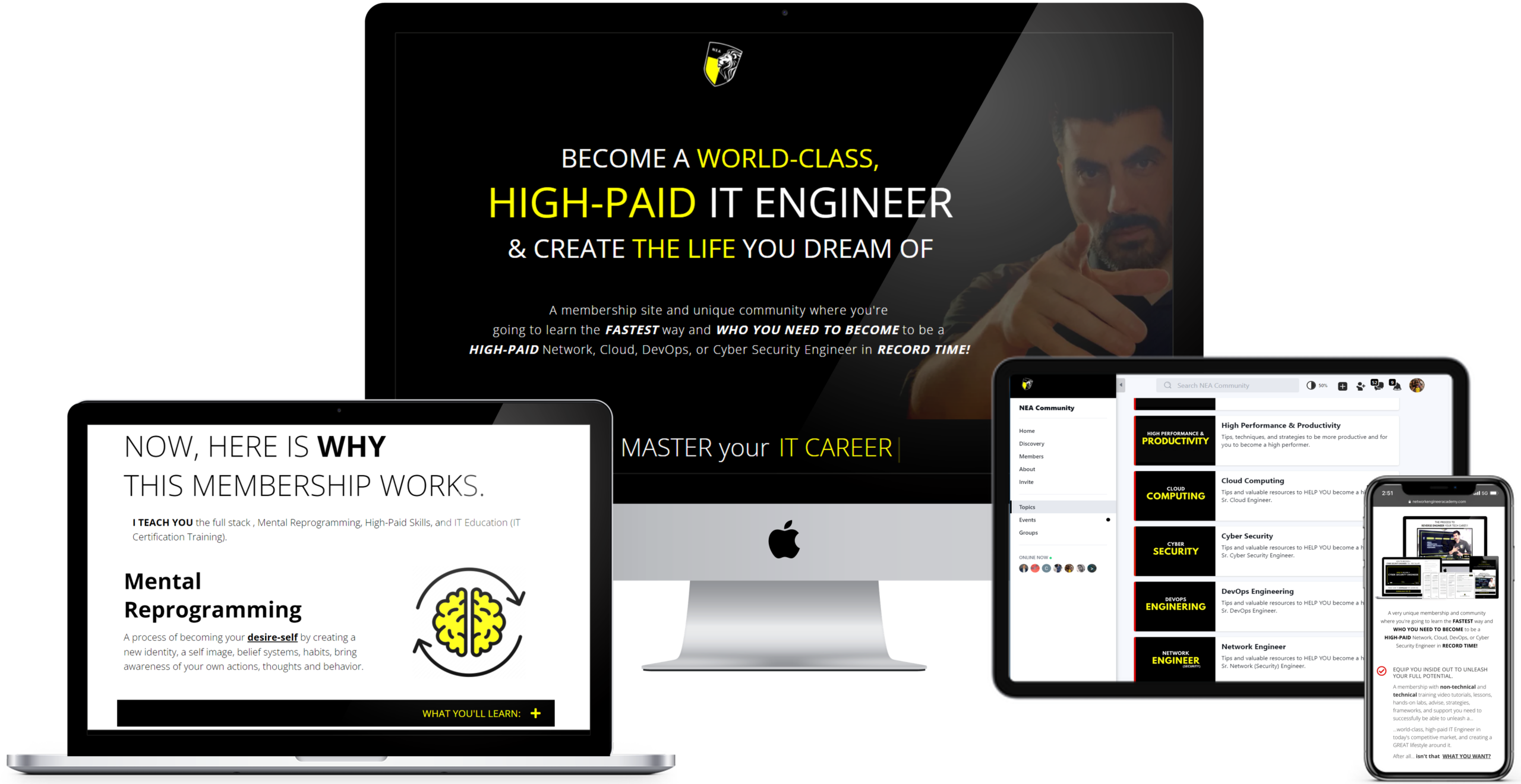 A very unique membership and community
where you're going to learn the FASTEST way and
WHO YOU NEED to become to be a
HIGH-PAID Network, Cloud, DevOps, or Cyber
Security Engineer in RECORD TIME!
EQUIP YOU INSIDE OUT TO UNLEASH YOUR FULL POTENTIAL.

A membership with non-technical and technical training video tutorials, lessons, hands-on labs, advice, strategies, frameworks, and support you need to successfully be able to unleash a...

...world-class, high-paid IT Engineer in today's competitive market, and creating a great lifestyle around it.

After all... isn't that what you want?
ADVANCE METHODS OF TEACHING.

EVERY technical topic I applied various teaching methods and techniques to make your learning easier, more interesting, productive, and very effective through...

...visualization, storytelling, motivation, real scenarios, and many more other techniques that you have not even heard of.


TOOLS TO DEVELOP YOUR "DESIRE SELF".

Alongside every lesson, you will receive an Inner Circle Action Plan to help you turn the information you learn - into ACTION! - and see every step laid out so you can see a crystal-clear path to results!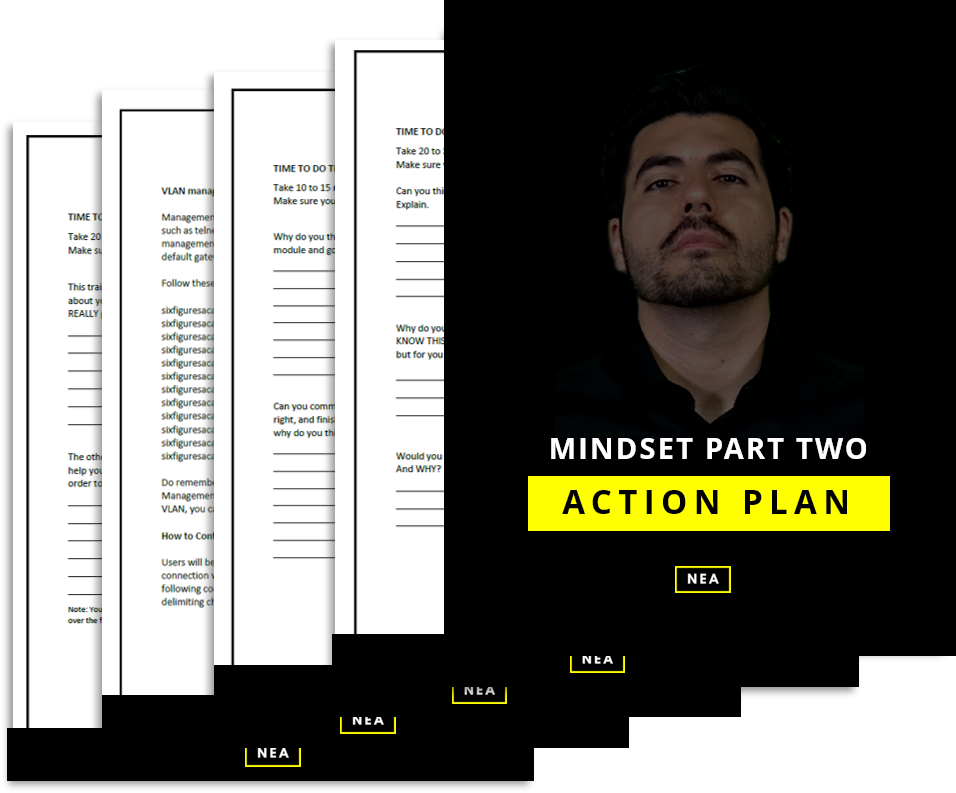 REAL-WORLD APPLICATION ASSIGNMENTS

On top of covering the theory, I provide the assignment to instantly apply it in the real world to see what happens. This creates "thinker doers".

An exclusive community for IT Engineers pushing together towards success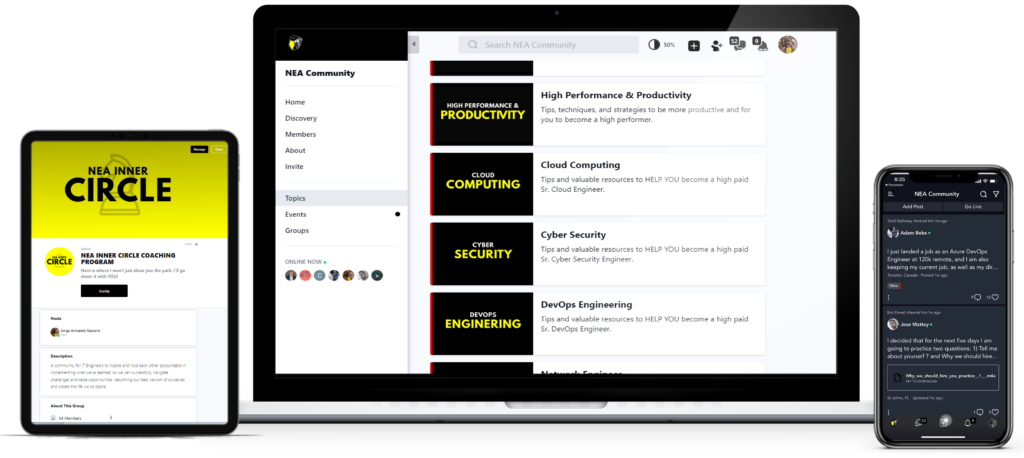 LIFE TIME ACCESS TO THE INNER CIRCLE COMMUNITY
THE POWER OF ASSOCIATION.

Create opportunities for new IT ventures, associate, and create new relationships, friends, and mentors inside the group. "Great minds think alike" and accomplish more.
YOU NEED THE RIGHT PEOPLE IN YOUR CORNER.

My coach once told me...

"If you're the smartest person in the room, find a better room." 

Having access to the Inner-Circle Community, you'll go from "I wonder if this is going to work" to "Holy shit! This is gonna work".

Perhaps the most important benefit of joining the 1-ON-1 Coaching Program is having LIFETIME access to the Inner-Circle, having access to other ambitious individuals who are crushing it! - and willing to share how they did it.

IMPORTANT: You DON'T need to know and have all the answers - YOU NEED A COMMUNITY THAT DOES.
LISTEN-IN AND GET INSPIRE.

Listen in, get inspired, and create reference points to other success stories inside the group - what did they do right? what's working for them? How can I apply that in my life and IT Career?
MONTHLY 2-HOUR GROUP COACHING CALL.

Join me once every month on an exclusive, 2-hour MEMBERS-ONLY Q&A video call where you will be able to ASK ME  ANYTHING directly!

And be able to get instant live feedback, and HELP YOU OUT in any bumps in the road you might be hitting in your process and making sure you are on track for success.

HERE IS HOW IT BREAKS DOWN EACH MONTH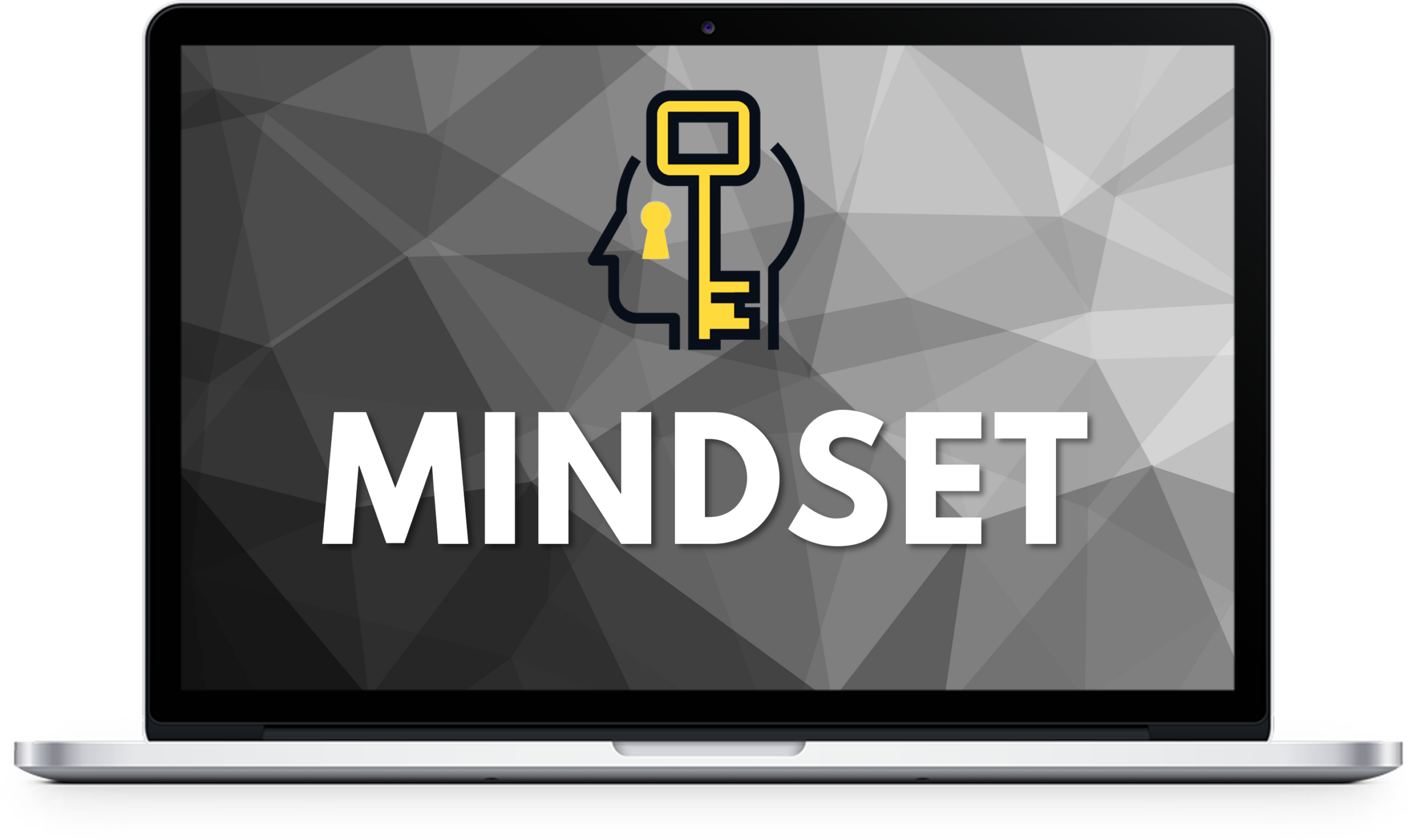 In WEEK 1 of each month, I'll have a ZOOM training call around installing a success mindset.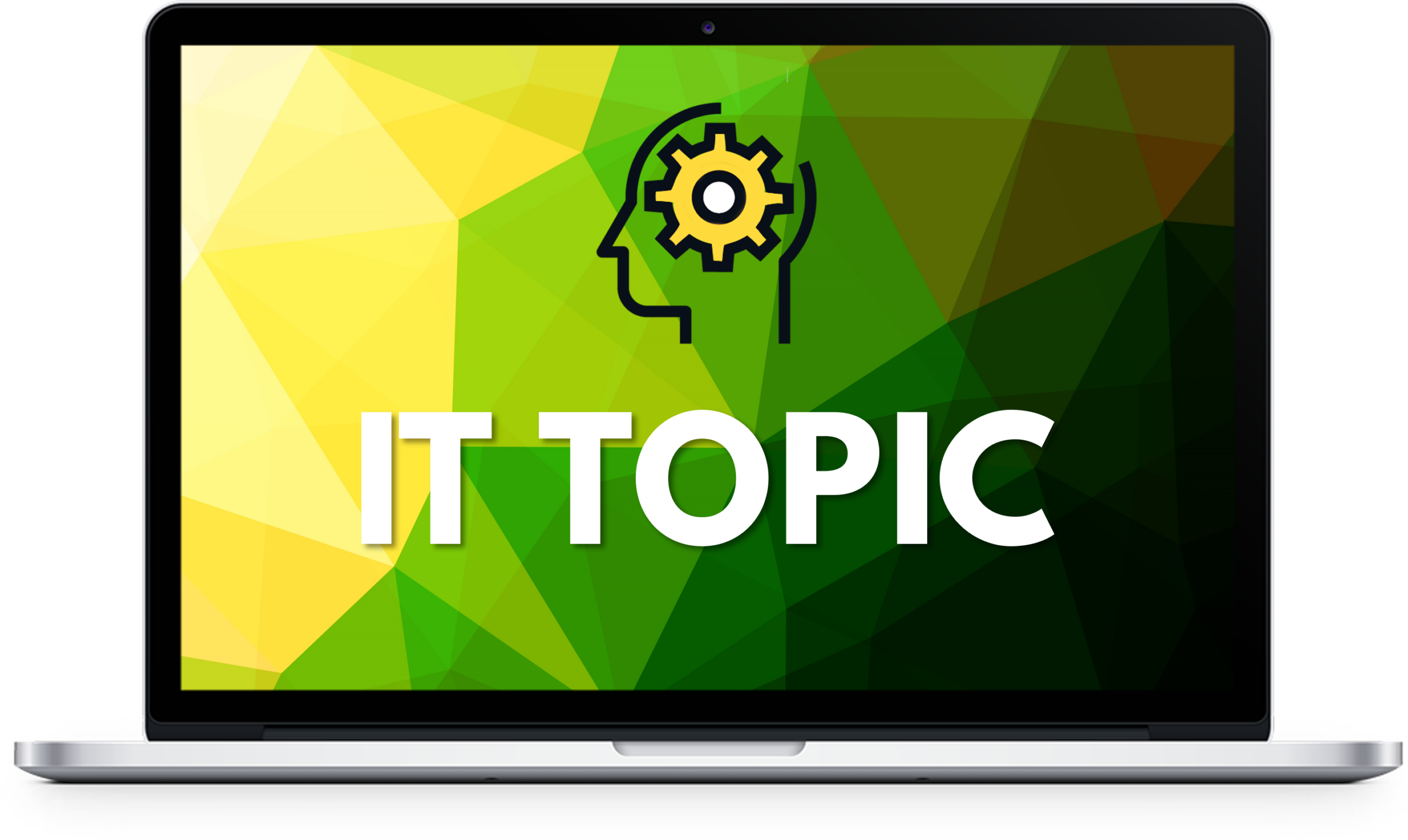 In WEEK 2 of each month, I'll have a ZOOM training call teaching a technical topic.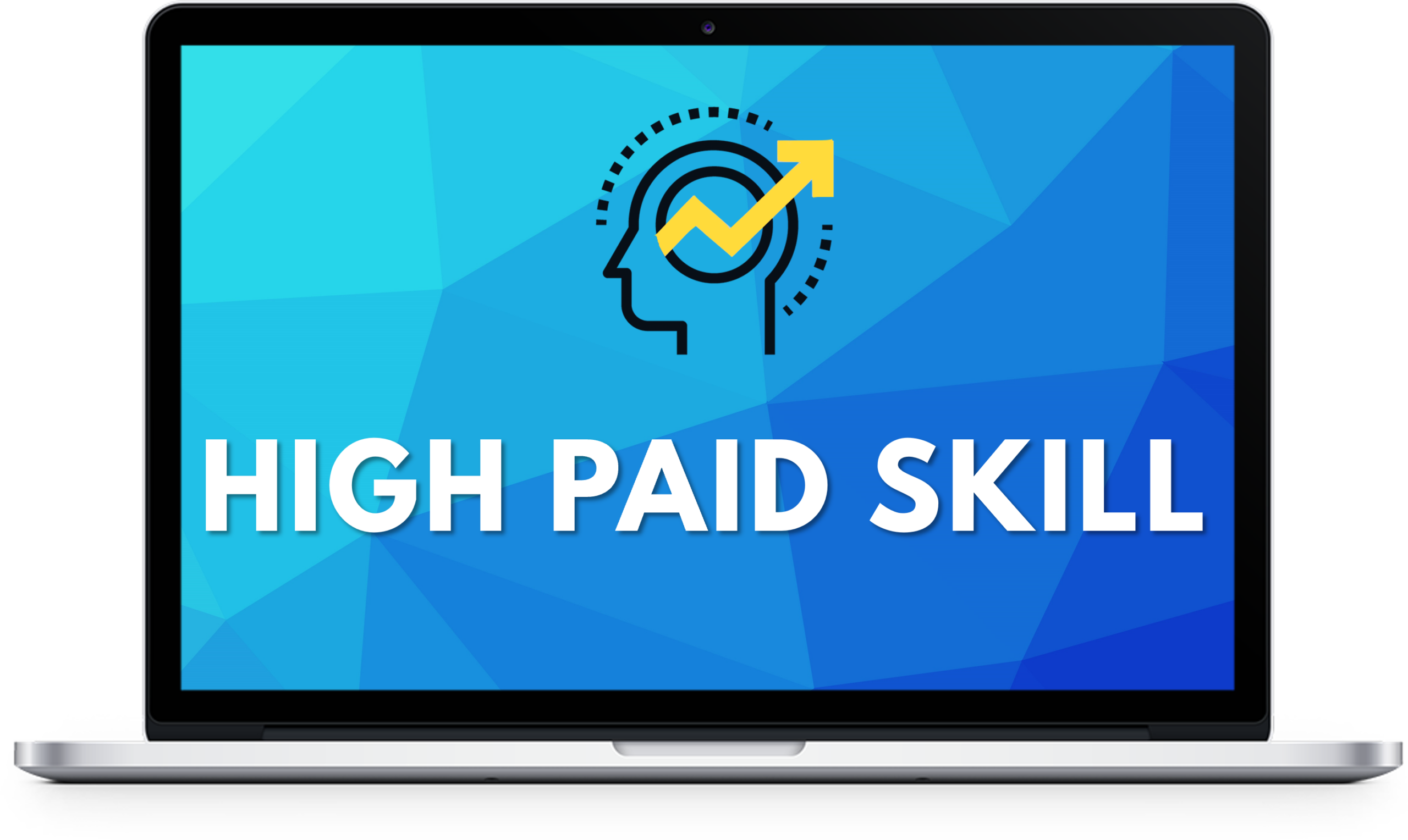 In WEEK 3 of each month, I'll have a ZOOM training call teaching a High Paid Skill.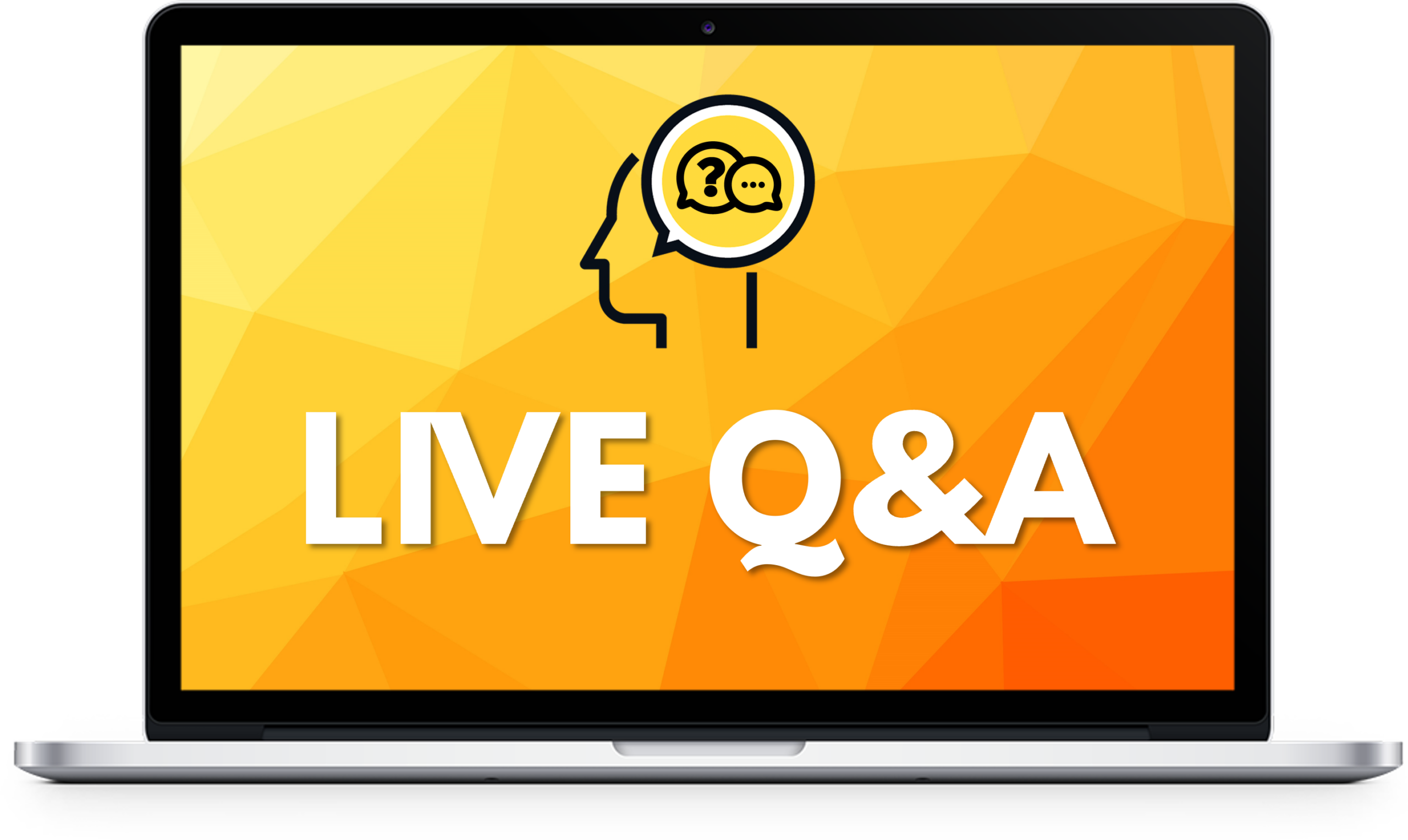 In WEEK 4 of each month, I'll be available for 90 minutes to answer any questions students may have through ZOOM !


[NOTE: THAT IF YOU'RE ACCEPTED TO BE PART OF THE COACHING PROGRAM]
TESTIMONIAL | INSIDE THE PROGRAM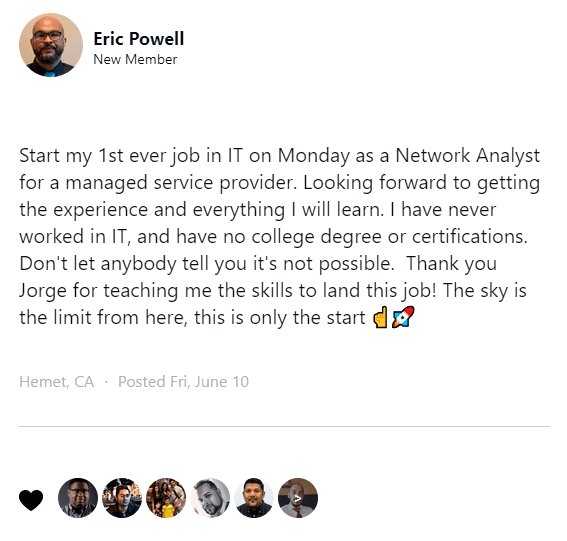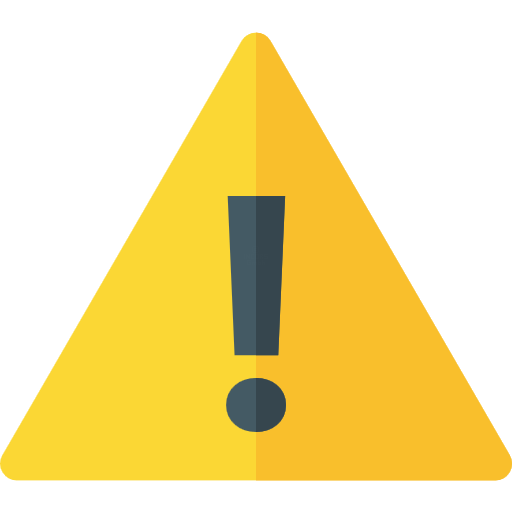 WARNING
This is NOT for individuals who just want to go through technical video tutorials, think they know best, and believe ONLY in IT Certifications...
But if you're wanting to become your desire-self, become a world-class six-figure IT Engineer, and become the hunted instead of the hunter, then this 1-ON-1 Coaching Program is for YOU.

YES, JORGE! I'M READY TO BECOME
A SIX-FIGURE AND WORLD-CLASS IT ENGINEER!
DON'T WAIT! ONLY 4 STUDENTS ACCEPTED PER MONTH
I WAS NOT SUPPOSED
TO BE HERE.
I started from the bottom…
An immigrant kid from Mexico who didn't speak a word of English… I was picked on, bullied…
Believe it or not, as a teenager – we were on food stamps and wore thrift-store clothes because we were too poor for anything else.
On top of that, I'm also a High School Dropout, in society's eyes, I'm a failure, and a person not meant to achieve much in life.
But back then in my early 20's, I made a promise:
"I'm going to build a better life for myself, and a better future for my family… and when I do – I'm going to help others do the same!"
No matter how hard I worked through, I always seemed to slide back to where I was…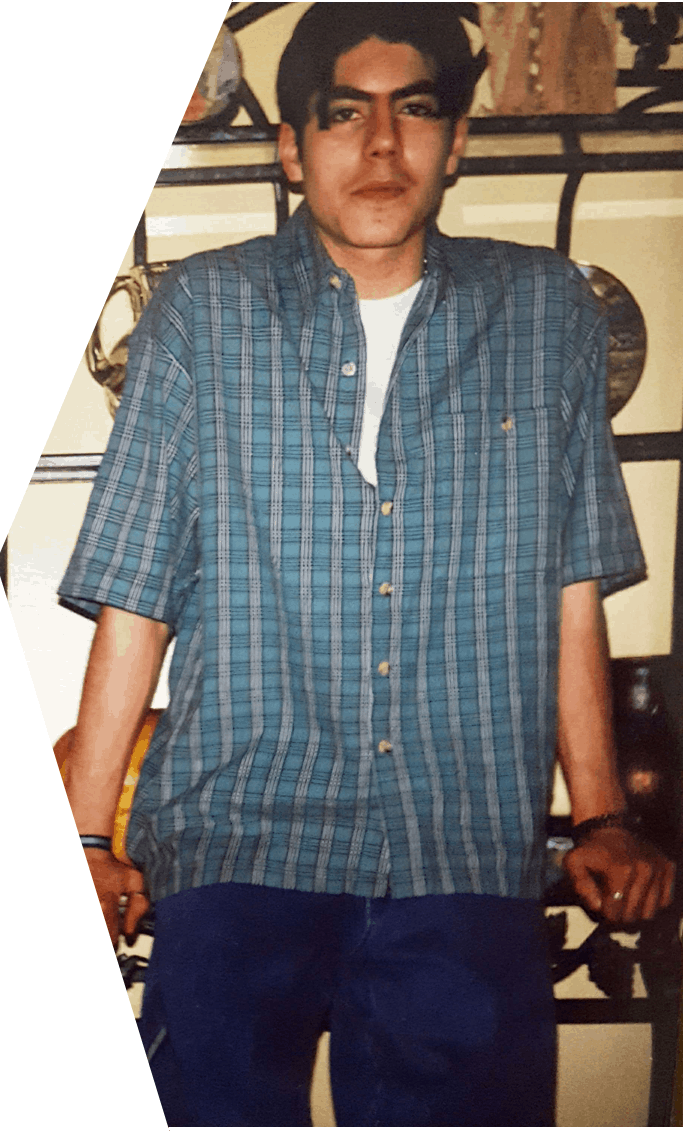 Every day I'd wonder, "What am I doing wrong? What separates me from the successful people I look up to?"
But one day, I was fortunate enough to talk to a millionaire, and that conversation changed my life... and SOMETHING CLICKED!
EVERY SUCCESSFUL PERSON NEEDS A COACH.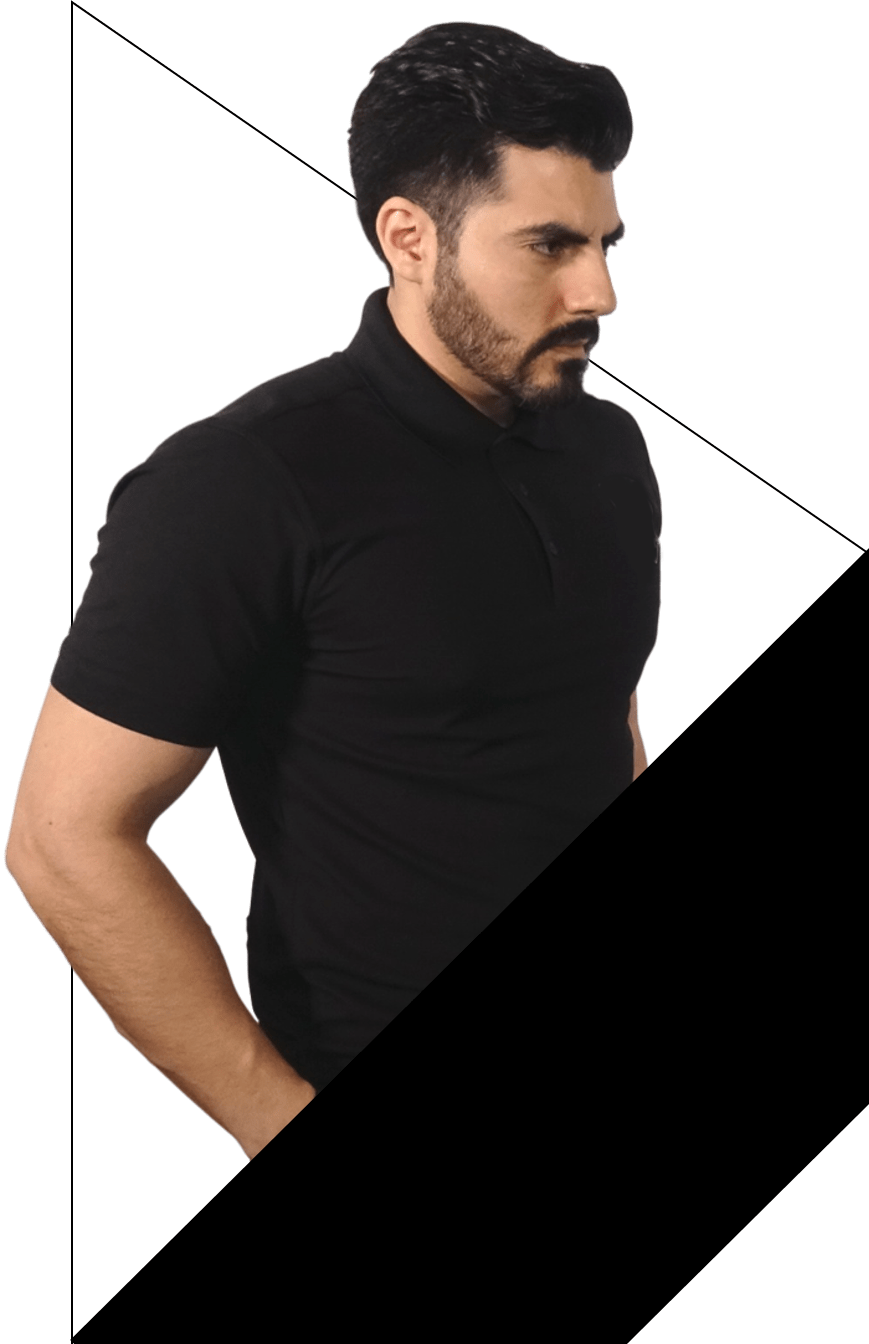 He told me...
"Observe and study those that have the LIFE, INCOME, and RESULTS you want. Not to those that are asleep and go through life in auot-pilot".
He continued...
"Every successful person, and those that you admire the most… each of these individuals are NOT any special or different from me and you. They have coaches".
In fact…
When you look at professionals at EVERY LEVEL…
"Every single one of them has a mentor, trainer, or coach – whether it's an athlete, top-CEO, or a successful entrepreneur".
"So, when was the last time you got mentored or coached?"
At this point, it hit me. I was trying to figure it out all on my own, and what I was doing, let's be real – it just wasn't working!
If you've ever felt like there's a ceiling to your level of success, I'm here to tell you – it's not because you "aren't smart enough" or "not ambitious" enough.
All you need is the right guidance, the right resources, the right network of people around you, and most importantly – a coach to hold you accountable and remind you of what you're capable of doing.
The moment I was humble enough to admit that I didn't know everything and that I wouldn't be able to do it myself – everything came together.
HOW TO REACH
"THE NEXT LEVEL"
Did I end up getting a Coach?
I did, a few in the last few years, I wouldn't be here if I wouldn't do that, and I have to confess... it was not an easy journey, but I can tell you that it was worth it.
I was able to TRIPLE my income, be more present and connected with my family, and I finally was able to love myself for who I was, and that's because I became my desired self.
Here is what I learned from that and what would allow you to reach the NEXT LEVEL...
Nothing outside of yourself will fix your problems, NOTHING!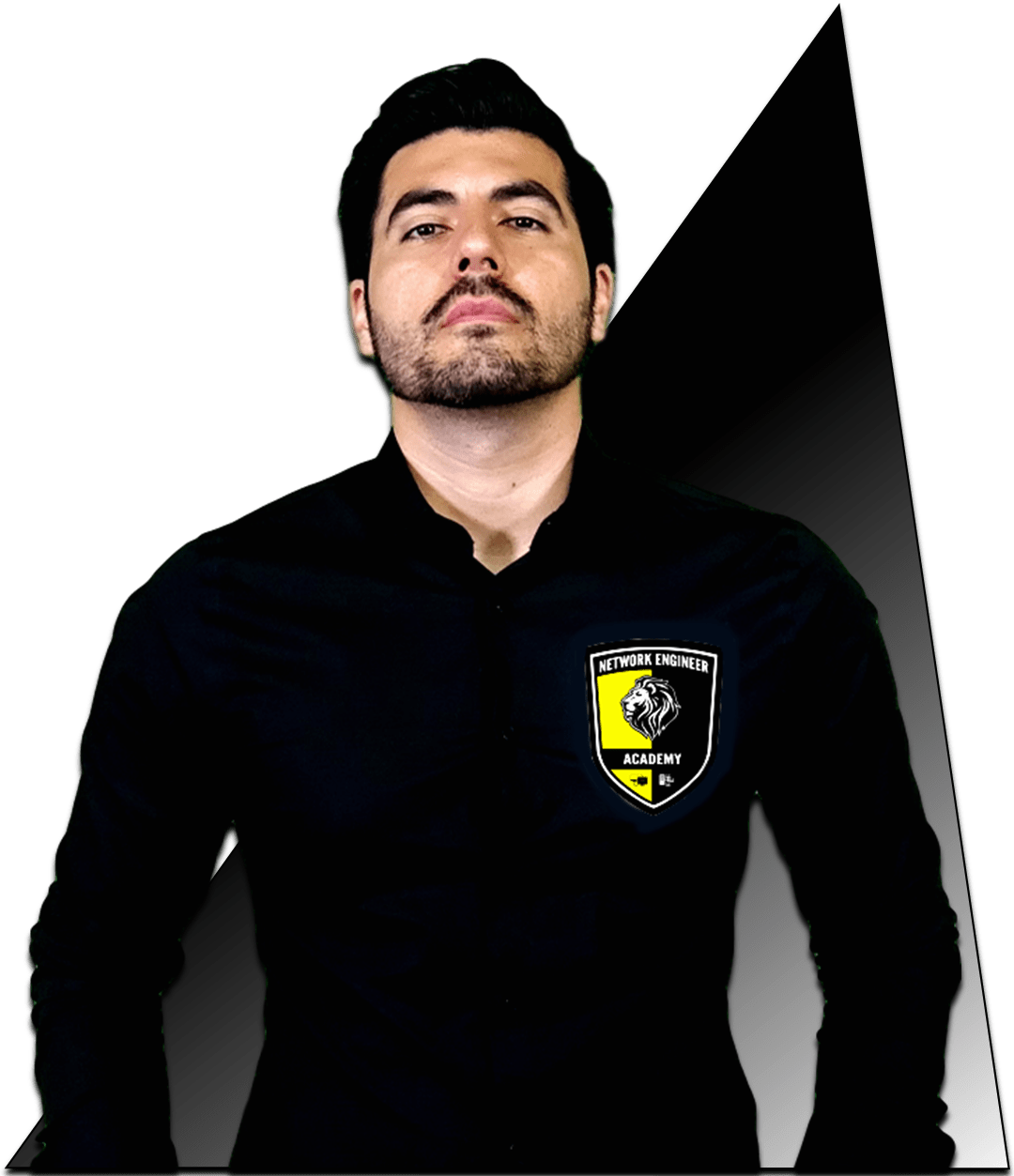 No one other than yourself will take you to the destination you want to get to in the next 6 months, 3 years, or in the next 10 years.
You need to change yourself first, from inside out, and then, and ONLY then, get the resources outside of yourself that will help you to get there by reverge engineer the process.
That's why the 1-ON-1 Coaching Program and inside The Inner Circle – you'll learn NOT ONLY how to get to your DREAM job in IT – but mindset, high-paid skills, and personal success. Exactly what got me here.
IMAGINE A BETTER LIFE FOR YOURSELF AND
YOUR FAMILY.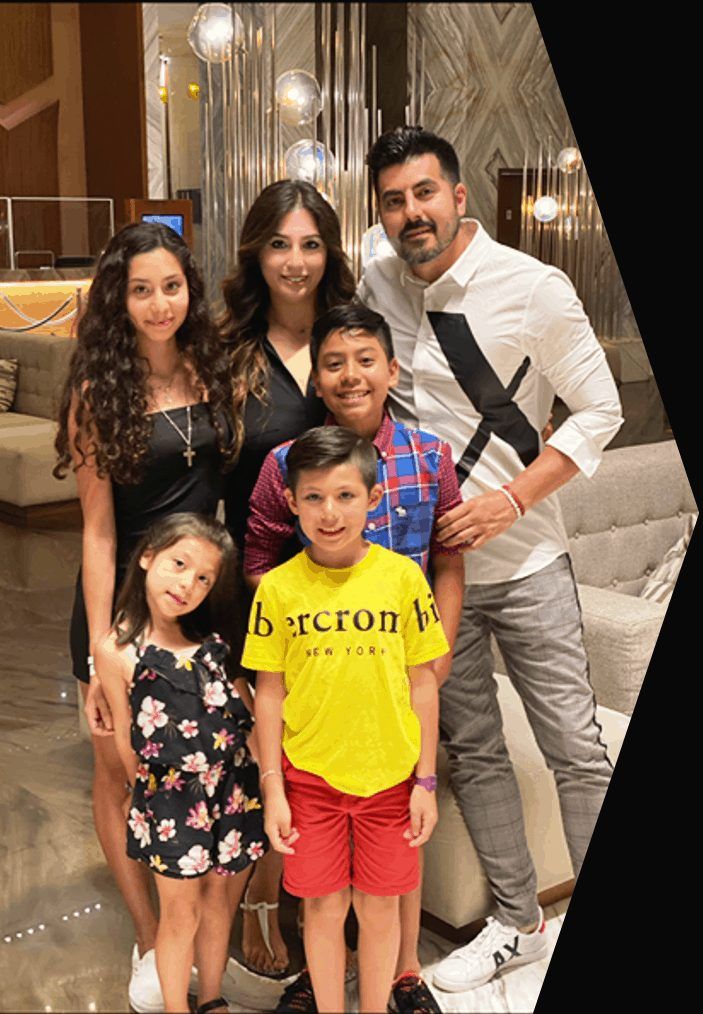 I did it, and so can YOU.
When I finally became the person I needed to become, I was finally able to get the JOB, INCOME, and RESULTS that I always wanted, and that allow me to have the satisfaction to be able to provide the life I didn't have for my family...  PRICELESS.
And my journey isn't finished yet, I want to keep growing and become the best version of myself and I want to bring you with me.
Remember that promise I made? – "When I make it, I'm going to help others do the same"
Today, it's time to keep that promise!
I want to see your future IT Carrer and LIFE next to mine on the VERY TOP.
I'M 100% SERIOUS. You know this, if you been following me in social media, you'll know that I truly care, A LOT.
Don't procratinate any longer, know how to bridge the gap between the life you HAVE, and the life you WANT! by getting a clear road-map with step-by-step instructions to bring you closer to a successful life! - know exactly WHAT TO DO and HOW TO DO IT.
And lastly, have the SUPPORT SYSTEM that can be the difference between success and failure. That's why I want to give you personal access to me and give you access to a small community of ambitious peers, just like yourself!
Your success is right around the corner, all you have to do is TAKE ACTION!
The only question is: ARE YOU READY?
THE COST OF NOT DOING THE PROGRAM
Well, think about what's costing you right now?
What NOT taking action will keep costing you on a monthly basis?
See, your decisions come with CONSEQUENCES.
So WHAT are you going to do?
It's time to stop making bullshit excuses and time to take radical ownership and responsibility for who you SHOW UP TO BE, and all of the results you've gotten so far.
Especially in times, we live in today, with so many challenges and chaos we all face, which demands a lot more from you to...
...be ruthlessly committed to doing the work required to ultimately get a high-paying job in IT, and create the life you desire.
Again, WHAT are you going to do?
Consider and think about HOW MUCH YOUR TIME IS WORTH, and the years it may take you to figure it out for yourself.
Just imagine...
It cost you five years of life, blood, sweat, and tears to figure out and that's if you figure it out.
So, why not take it from me and join an incredible community of ambitious IT Engineers that want to see you succeed? I'm giving it all to you for $2,000.
Finally, if you still think this program is too expensive, then perhaps you are NOT ready to change your Life and IT Career and this 1-ON-1 Coaching Program is NOT FOR YOU.
WHAT STUDENTS HAVE TO SAY
YES, JORGE! I'M READY TO DARE HAVING IT ALL IN LIFE.
DREAM JOB. INCOME. LIFESTYLE
DON'T WAIT! ONLY 4 STUDENTS ACCEPTED PER MONTH
HERE IS MY 100%
RISK FREE
First, let me REMIND YOU that the 1-ON-1 Coaching Program is much more than a training course for IT Certifications, this is a very well designed and strategic way that can apply to YOU, and that's the closest thing to having a PERSONAL CAREER AND LIFE COACH IN YOUR RIGHT POCKET, is just another reason why this is a World-Class opportunity.
Now, about the MONEY BACK GUARANTEE...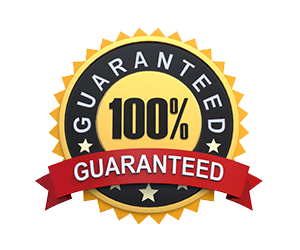 If for whatever reason you're the rare student NOT making major strides toward achieving life-changing results in your IT Career, let me know within 3 weeks and I'll return every penny.
LET ME TRY TO ANSWER THEM FOR YOU
Absolutely - If ONLY you are willing to do the work.
The Coaching Program will teach you step-by-step everything you need to need not only to get the IT Certification you need from beginner to all the way to the Cisco CCNA R&S. In fact now is the perfect time for you to join Coaching Program; as you'll get the training requirements to start your I.T. career the right way, and for you to GET FIRST JOB IN JUST 4 MONTHS.
Absolutely - If ONLY you are willing to do the work.
The Coaching Program will teach you step-by-step everything you need to you need not only to get the IT Certification you needfrom beginner to all the way to the Cisco CCNA R&S. In fact now is the perfect time for you to join Coaching Program; as you'll get the training require to start your I.T. career the right way, and for you to GET FIRST JOB IN JUST 4 MONTHS.
Obviously to accelerate the process to get to the income, dream job, and lifestyle you always dream of sooner than later. Simple as that.
And finally, because you need support, community, accountability and most of all... 
GUIDANCE AND COACHING to become who you are destined to be.
First, this is NOT another course for you to experiment with to hopefully find something that works, this is a Coaching Program that is based on years of best practices and customized to YOU based on where you are now and what you want to accomplish. 
This isn't based on a one-time success. It's the accumulation of proven frameworks, strategies, and ways of thinking, that were learned and applied for the past 4 years, all distilled down into a blueprint for recurring success.
Absolutely - If ONLY you are willing to do the work.
The Coaching Program will teach you step-by-step everything you need to you need not only to get the IT Certification you needfrom beginner to all the way to the Cisco CCNA R&S. In fact now is the perfect time for you to join Coaching Program; as you'll get the training require to start your I.T. career the right way, and for you to GET FIRST JOB IN JUST 4 MONTHS.
The Coaching Program is very step-by-step detailed and proven process customize to you in order to get your FIRST job or a HIGHER position in the IT in the NEXT 4 MONTHS.
But it's natural to have questions. That's why we've gone to great lengths to ensure you'll be supported the whole way through personal email to Jorge and inside our INNER CIRCLE Facebook community.
YES, JORGE! I'M READY TO BECOME
A SIX-FIGURE AND WORLD-CLASS IT ENGINEER!
DON'T WAIT! ONLY 4 STUDENTS ACCEPTED PER MONTH

Copyright 2022 - Network Engineer Academy - All Rights Reserved